Couples who are divorcing are often overwhelmed by all the organizing, planning, and paperwork required to untie the knot. One question we often hear at our divorce workshop is "How do we file the paperwork?"
If you have an attorney, you don't actually file divorce papers yourself. He or she will guide you through the process and handle that on your behalf. In almost all divorce cases, it's best to hire an attorney, because getting divorced is not usually as simple as both parties agreeing to part amicably and split things down the middle. If you have children or property or other assets, it's best to have an attorney help sort things out, especially when it comes to child custody and visitation.
How to File without a Divorce Attorney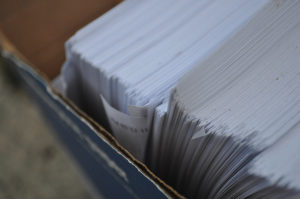 In some cases, you can divorce your spouse without an attorney. You might hear the term "pro se," which means on your own behalf. If you are concerned about the money to pay for an attorney and your divorce is not complicated, you can file the paperwork and attend the hearing on your own. A "not complicated," divorce is one between two people who have not been married more than a few years and do not have children and are not arguing over any assets or support payments.
We've discussed before online divorce services, and we do not recommend those. However, if you are absolutely certain you want to get a simple divorce on your own, Legal Aid of North Carolina has a useful Do-It-Yourself Divorce Packet. The packet explains every step in the process, gives you the forms, and tells you where to file them. The packet also includes useful checklists and flowcharts to give you a better understanding of how it all works.
Child Custody
The packet above cannot be used if you need to arrange child custody. If you must do that without the help of a divorce lawyer, it's best to start by attending one of Legal Aid NC's free clinics on the topic. (You'll see links to that information the Legal Aid homepage .) You can also find information from the Wake County Family Court.
If you're still not certain about how to proceed, please join us for one of our monthly divorce workshops where a divorce lawyer is available to answer your questions.